March Madness: Bloomington's Real Estate Market Heating Up
By Heather Groves, Broker
March Madness: Bloomington's Real Estate Market Heating Up
The Men's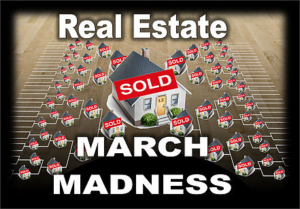 and Women's NCAA Basketball Tournaments are underway. If you're thinking about buying or selling real estate, you'll have to navigate a full court press to get the home of your dreams – or the price you hope for the sale of your home.
It happens every year – and 2019 is shaping up to be another banner year for our real estate market. Here's a snapshot of our market.
Bloomington Area by the Numbers
Monroe County All homes sold in 2018: 1,914
Condos:  420 – All other: 1,514
Year-to-Date thru 2/28/19
All homes sold: 179
Median home cost: ~ $200,000
Active Listings:  346
"Here in Indiana, with the inventory of homes on the market likely to remain exceptionally low in 2019, we expect that residential construction will expand for the fifth consecutive year."
Source:  Matt Kinghorn, Senior Demographic Analyst, Indiana Business Research Center, Indiana University Kelley School of Business – http://www.ibrc.indiana.edu/ibr/2018/outlook/housing.html
Tips for buyers and sellers: Sooner rather than later
Buyers
Get pre-approved
Be realistic about your budget
Be realistic about your DIY abilities
Research the neighborhoods you might like; ask Sterling Real Estate for recommendations
Sellers
Start cleaning your house – from top to bottom
Request a complementary evaluation of your home from Sterling Real Estate
De clutter and depersonalize
Keep resale in mind when renovating – ask Sterling Real Estate for help prioritizing projects
If you're ready to buy or sell a home – contact us to get the conversation started.